14 juin 2011
Let's say I met this guy called Manu... well he used to be some rowing champion at school.. then you understand better why when you go MTB with him he's allways very chatty while you're trying to breath some air in...
Just some idea... you take the very bad quality map from Kompass or even worse the one from germany... (After IGN in France it's very bad trust me!) and you try to make some nice tours...
The german 'trails' are actually some very large roads.. therefore very boring...
So with Manu we allways end-up with the bike on our shoulders to go up.. and sometime to go down... sometimes we find some very nice trails...
I thought... why not go for a longer one.. and then with a tent...
Do you know 'Carnets d'aventure'.. well this is a french magazine talking about such things as travelling very light.. with a bike, by foot, on a kayak, ...
Found an interesting article where some french guys did the famous Chamonix-Zermatt by bike...
http://www.expemag.com/recit/chamonix-zermatt-vtt.html
This looks like a pretty good idea...
Here are the GPS traces: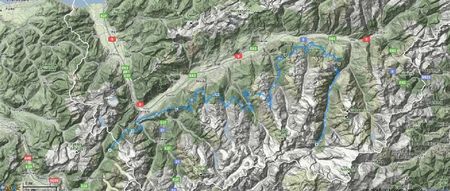 So do we want to go for this? or closer to Munich?
Chamonix-Zermatt is quite famous as a high-route in ski. I just had a quick look at the previous posted route and this looks really nice!
As another idea, we could go in the Dolomites... but then that looks like a transalp... Ouch I hate this word it's so trendy at the moment...